I want to start by thanking EdenFantasys for sending me my first toy to review for them, the Bumpy spiral double dong.  I was very excited to get this toy because I had never tired a glass toy, but I've heard rave reviews about them.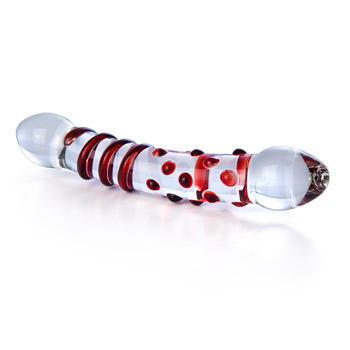 The Run Down:
Manufacturer: SSA Glass
Materials: Glass
Size: 8″ long, 1 1/4″ wide
Price: $29.99
Recommended Use: Enjoy the smooth, sleek feel of glass for vaginal penetration
Pros: Extremely body safe (latex free, hypo-allergenic, non-porous, Phtalate-free); Very smooth and slippery when lubed up; Good for temperature play; Good for g-spot play; Easy to clean; Two different textures; Not a huge intimating toy; Beautiful toy with a nice storage pouch
Cons: The bumps could stand out a bit more, but not a huge deal; Some people may not like such a hard or weighty toy
Overall Rating: 5/5
Recommended: Yes
Now, I was cautious about getting a glass toy, I mean glass doesn't seem like something you want to stick inside you right?  But glass toys are made out of Pyrex glass, like your kitchen bake-wear.  If you've ever owned any of it, you know it's basically indestructible.  It would take a lot of force to break this stuff. Plus, glass is one of the most body-safe materials on the sex toy market. Glass, like silicone, is non-porous, Phtalate free, hypo-allergenic, and latex free. Glass is ultra smooth and can get very slippery when lubed (which you can use any type of lube with it; oil, silicone, or water based) and it's great for temperature play.  Its is also very easy to clean, just use soap and water or a toy cleaner or wipe and you're good to go.
So the reason I picked this dildo is because it has not only one, but three textures to play with.  Since I had never tried a glass toy before, I thought it would be a good idea to find something with different textures.  One side has raised bumps along the shaft while the other has a swirl.  If I had to pick a side I prefer… I'd probably say the swirled side.  The nubs just don't seem to stand out as much, but both sides do feel very good.  Aside form the textured shaft, both ends have a smooth bulbous head and the toy has an overall curve to it, making it great for some g-spot stimulation.  The shape of the head also made it very easy to insert, even with very little lube.   One thing to note about the texture, is you may need to wipe or clean extra hard between the ridges and bumps, as you might miss something.
Overall, the toy is slightly under 8″ in length, 1 1/4″ wide in the widest part of the head, and 1″ wide through the rest of the shaft.  This is not a large intimating toy, so it would be perfect for anyone's first glass toy.  It is a double ended dildo, so you don't want to insert all 8″, well you might, but I can't take that much.  A little over half the length was good for me.  Usually I could just start to feel the texture of the other side.  But if you're using it for g-spot, you probably won't need to go that far, but everyone is different.  As far as where this toy can be used, it's a good toy for both vaginal and anal play, just don't go from anal to vagina play without washing the toy very well.  I have not tried this toy for anal play, as I haven't done much with it, so I cannot vouch for what it feels like. However, one thing I think this toy could work well with is massage.  You could easily heat it up and get some massage lotion and use it to work over your partners back.  Or even cool it down and use it as a fun way to cool off on a hot day.
In addition, because it's glass, it is a very hard toy, which I was worried about.   I tend to like soft and squishy toys, things that feel a little more like the real thing. However, I didn't have a problem with this toy.  It just felt right, perhaps because of the weight.  This is probably one of the heaviest toys I have.  The weight is also a new feel, just sliding it in and feeling the weight.  Even though it's not a large toy, the weight makes it feel large, but I really enjoyed it.  It was a new way to feel completely filled.
Another one of the benefits to glass is the temperature play.  I haven't ventured much into it, but the bumpy spiral dildo got me started.  The first time I used it, I hadn't warmed it up and it had just been chilling in my toy box, and it was rather cold. Now it wasn't extra cold, but it was still a very interesting feeling, it will definitely be fun to play around with it and try cooling it down even more or warming it up.  That's a big benefit if you like to play around with temperature.
Lastly, the toy itself is very beautiful.  Perfectly clear with maroon coloring to the bumps and spiral.  I don't think any of my other toys are this pretty.  It's not the most discreet toy in the world, as it is some what phallic looking.  It also came with a nice purple micro suede pouch to store it in.  The pouch has a silky pink lining and is slightly padded to help protect your the glass.  I believe this pouch is the same as this one you can buy on Eden Fantasys.  Oh, and sorry that the picture makes it out to look like a huge gaping vagina… at least to me.
Overall, I loooove this toy and I want to thank Eden Fantasys a million times for sending it to me.  I definitely want to try out more glass toys, maybe even something a little bigger!  I also found it very hard to find anything wrong with this toy.  This is a really great glass toy for anyone wanting to try a glass toy for the first time.  Plus I think this is a very inexpensive glass toy, go check it out!

Double ended dildo by SSA Glass
Material: Pyrex Glass
Safety:
This product was provided free of charge to the reviewer.
To save 15% on your order at Eden Fantasys, use coupon code
G8W
*This review was sponsored by Eden Fantasys, the product was sent to me free of charge to provide my honest opinion with no form of compensation*