Today I decided to cover one of my first toys and old time favorite, the Climax Rabbit made by Topco.   Being a newb with toys at the time, large sized things put me off a bit, so this little vibe was perfect.  It's made from a soft, almost plushy, jelly material and is shaped like a cute little bunny.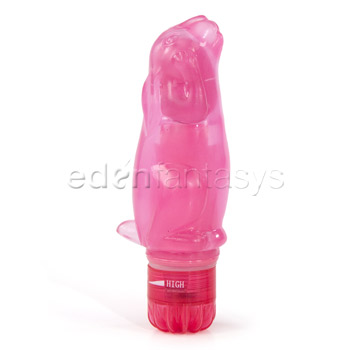 The Run Down:
Toy Type: In-ie or Out-ie
Manufacture: Topco
Material: Jelly
Price: $19.99
Recommended Use: Use this cute little bunny to tease your clit or vagina
Pros: It takes only 1 AA battery; Small size; Great beginner vibe; Pretty powerful; Easy to use dial control; Nice bright colors
Cons: It's made from a PVC jelly material that isn't very body safe and can't be steralized; Dial cap cracked, but after having it for a while
Overall Rating: 3.75/5
Recommended: Yes
On Eden Fantasys, it states that this vibe is phthalate-free, but being that is a jelly material, it is not the most body-safe material.  The ingredients in jelly material are not regulated like many other materials.  In addition, jelly is a very porous material which can allow bacteria to be absorbed into the toy.  Jelly cannot be steralized in boiling water like silicone toys so they shouldn't be shared unless you use a condom or a toy cover.  There may also be worries that jelly might degrade over time, however, over the year or two I have had this toy, I have not noticed that the material has broken down or degraded in any way.  Jelly toys can also have a rubbery smell, but I remember when I got my toy, it did not have any harsh smell like some jelly and rubber toys I have purchased. Also, since this is jelly any type of lube can be used with it.  As far as cleaning, like I said it cannot be boiled so a mild soap and warm water or toy cleaner can be used.  You shouldn't use a strong soap on this toy.  Store it in it's own place (not touching any other jelly toys) in a cool dark place.
The toy is only 5″ in total length, with 4″ being insert-able.  At the widest it measured about 1 1/2″.  This is not a large toy by any means and is a GREAT beginner toy.  Aside from the length, it's also shaped like bunny rabbit.  One of the first things I noticed was the face of this little guy.  His little paws are on his cheeks and to me he has a shocked expression that says "Oh no!  You're going to put me WHERE?!?!?!"  Slightly sick and twisted, but it amuses me greatly.    In relation to the bunny shape, the head has a bit of a point to it, which can allow for a pin point application of the vibes.  I personally only use this really for clitoral stimulation, but it could also be used for g-spot stimulation.  One thing to note is that there is a slight seam down the midsection, but I have not seen that it is overly sharp or causes any problems with insertion.  I would not recommend this toy being used for anal stimulation because it is a jelly material and there is no flared base.   Just imagine if you were using this for anal play and it got lost!   "Hello doctor?  I lost a bunny in my ass…" so yeah… don't do it.  Also, any bad bacteria could be transfered from the anus to the vagina since this toy cannot be sterilized.
The Climax Rabbit only takes 1 AA battery and packs quiet a punch.  It isn't far from one of the strongest vibes I have.  The motor in this toy is also in the head of the rabbit, so you get the most intense vibration at the end of the toy.  The battery is very simple to insert, just unscrew the end cap and pop it in and you're good to go.   It also has a dial control, giving a continuum of  vibrational speeds (oh how I love dials!).  The lowest speed I would compare to a pleasant humming tickle while the high speed is a moderate-high to high vibration.  Also note the clear O-ring above the dial, making this toy water proof.  Unfortunately, the screw cap on mine has gotten a crack and probably isn't completely water proof anymore.  I wouldn't say that this is a serious problem, but I have had this toy for at least 2 years and I accidentally got the end caps to this toy and another mixed up, and well, don't try to force something when it doesn't want to go… Yeah…  Oh and don't forget to remove your batteries when you store your toys!  This will prevent the battery from corroding or exploding, etc.  It will greatly increase the life of your toy, and for a good one, you'll want it to last forever.
Overall, this is one of my favorite toys and would highly recommend it anyone, especially someone who doesn't like or is intimated by large toys.  It is a rather strong toy and I think anyone would enjoy this cute little bunny.  It also comes in three colors.  Blush (like mine), clear, and purple.  The purple one is very pretty!  But then again I love purple and am not particularly fond of pink.
Discreet massager by Topco

Material: Jelly

Safety:
To save 15% on your order at EdenFanasys, use coupon code
G8W
*This review was not sponsored by any company, it was a product I purchased on my own and choose to give my independent opinion on*