Today I'm going to cover a type of product I have very little experience with me, but it is a product I have enjoyed so far.  The product I'm covering today is the Crave Collar with Nipple Clamps provided by Eden Fantasys at a discounted price.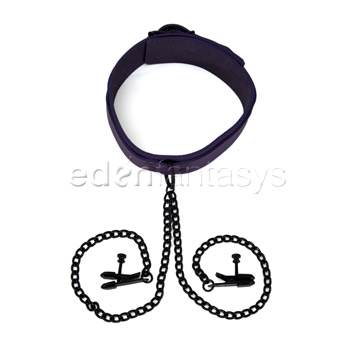 The Run Down:
Manufacturer: Spartacus
Materials: Leather and Metal
Size: 19″ long, 1 1/2″ wide
Price: $39.99
Recommended Use: Buckle this around your favorite slaves neck and add the nipple clamps for some little extra pain (or pleasure)
Pros: Beautiful color of purple; The nipple clamps could easily be removed if desired; Very adjustable and can fit larger necks
Cons: Not vegan friendly; The clamps are a bit stiff
Overall Rating: 4.75/5
Recommended: Yes
The packaging I found to be a little large and not at all discreet, but it does showcase the product very well.  The back of the packaging also had a lot of information detailing the specifications of the product, which was nice.  I would not want to store the collar in this packaging though as it would just take up too much space.
I am just barely venturing into the world of bondage, but a friend of me showed me his collar and I thought it was interesting.  I found this one and I decided I had to have it, I mean look at the color purple!  It's a beautiful deep rich purple leather with black hardware.  If you hadn't noticed by now, purple is my favorite color.  The hardware also seems fairly heavy duty, though I would not recommend pulling on the chain for the clamps to use them as a leash.  It is only connected by a split ring which could easily come apart.  However, that makes it easy to remove the clamps if you would just like the collar by itself.  I plan on taking them off and putting them on a clip so they can attach and detach even easier.   There is also plenty of room to attach a leash if you desired.
The collar is made from leather and it did not say it is 'vegan friendly' so I would assume it is actual cow-hide.  I do not personally care about this, but I know many people do and it is become a bigger market, so this would not be a good product for you if you are vegan.   The collar is 1 1/2″ wide and is very adjustable.  The package says it can range to fit from a 12″ to 18″ neck.   I feel that I have a very large neck, most standard size women's necklaces are too small for me, and this fit loosely on the second or third hole.  It should easily fit others who have large necks as well.  Also, be sure to not have it snug when wearing it for play.  The body does tend to swell so making sure there is room to stick two to three fingers in the side or back is a good idea.
The nipple clamps are standard screw type clamps, which means they can be adjusted for as much or little pinch as you'd like.  They do have a broad rubber-coated tip for added comfort.  They are each attached to the collar by a 1 foot long chain.  I had never used nipple clamps before, so I am still playing around with these, but they seem like fun.  The only problem I had was they are a bit stiff and can be difficult to open.  If you have weak hands these may be very difficult to open and close.
Overall, I do like this collar.  I am waiting to get the matching wrist and ankle cuffs (they are out of stock *sad panda*) and I'm sure they are just as high quality as this collar.
To save 15% on your order at Eden Fantasys, use coupon code
G8W
*This review was sponsored by Eden Fantasys, the product was provided to me for a discounted price to provide my honest opinion with no form of compensation*