I'm sure many people have seen products on TV for both men and women that say they can 'increase arousal' or 'increase pleasure'.  Most of the pills , well I think they're kind of bull.  However, there are several topical products that I do believe in and today I'm going to cover one of them.  I have tried several stimulating gels and creams and such things and they are something that I really enjoy.  One of the ones I am fond of is Durex Play Utopia.  I am a big Durex fan in general, and I had tried on other female enhancement cream so I thought I'd give this product a shot.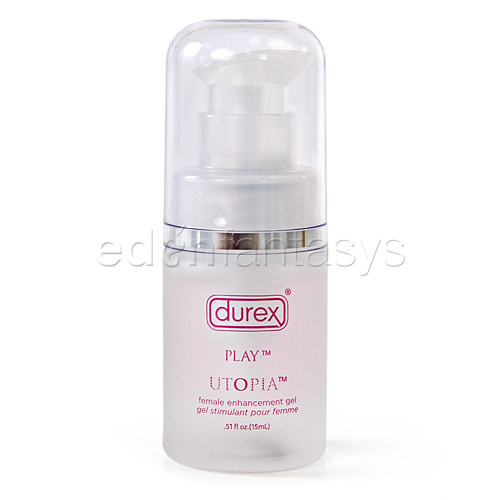 The Run Down:
Manufacturer: Durex
Ingredients: Water, Propylene Glycol, Arginine, Hydroxyethylcellulose, Lactic Acid, PEG-40, Hydrogenated Castor Oil, Flavor, Isopulegol, Methylparaben
Price: $21.91
Recommended Use: Use a small drop to add extra sensation to your clit
Pros: Water-based so it's condom safe; Contains L-Arginine which gives a stimulating tingling sensation; Thick but not really sticky; Comes in a small pretty glass bottle
Cons: Contains L-Arginine and paraben which may cause allergic reactions in some people; Not overly long lasting; A little pricey
Overall Rating: 3.5/5
Recommended: Yes
So what exactly is Durex Utopia.  Well first of all it is not a lube.  It comes in a small 0.51 fluid ounce bottle, so you would use a whole bottle in one session if it were. Durex Utopia is a female enhancement gel, basically a topical stimulant.  It has ingredients in it that are known to stimulate blood flow when applied to an area, in this case the clitoris.  You might think that you'd use it up so quickly being that it's such a small bottle, but a small drop really does go a long away.
The gel itself is thick but not overly sticky and since you just need a small drop, it does not leave you feeling gooey or gross after you've applied it.  It does not have a strong odor to it, though when I smelled it closely it smelled slightly glue like.  I have not tasted this product, but it is not stated anywhere on the bottle or packaging that it is edible, so I would not recommend using it for oral sex.  I will cover other stimulating oral sex products later.
To me, when I apply this gel I quickly start to notice a tingling sensation, almost like a rush of blood to the area.  Some reviews have mentioned a warming sensation, but I don't really feel that.  I kind of feel the rush of blood and almost like you can feel your pulse through your clit, but not really a warming feeling.  It makes it much quicker for me to orgasm during solo play and makes stimulation, especially sex, with a partner much more intense and pleasurable.  It also increases my own natural lubrication from it's stimulation.   If you do not enjoy a tingling sensation, then this product is probably not for you.  I have noticed that most products marketed specifically towards women tend to have a tingling effect, while products marketed at men a warming effect.  With my male partners I have noticed this is true.  I have tried my products on them and they have all said that tingling doesn't do much for them, but a warming sensation really gets them going.  The sensation latests for 15-20 minutes or so, which might not seem like long, but once I get going I don't stop to think "Hey!  What happened to the tingling?"  This seems average for most products to me.  I think that this gel is a very good jump start on your fun times.  On a side note with this product, I have had this bottle for close to two years and I have noticed a decrease in effectiveness.  I checked and there is an expiration date on the bottom, mine is 07/2010, so it's time to get a new bottle.  Or perhaps try something new to review!  I have also noticed  that this product has dramatically increased in price since I had purchased my bottle.  When I got mine I paid only $6 for it, now it is $21 on EdenFantasys.com.  This is probably due to other products such a KY Intense coming out for a higher price, so they decided to raise theirs as well.  However, if you're not sure you like a tingling sensation, I would suggest trying another cheaper arousal product first.
As I've covered in my Libido Lift review, this product contains L-Arginine.  It is known to increase blood flow, and unlike the Libido Lift, Arginine is the 3rd ingredient in this product, so it has a much higher concentration of this protein.  There have been some concern with L-Arginine that it may increase the chance of an outbreak in people who have genital herpes, so if you are interested in a stimulating tingling product, I would recommend a product with menthol as the stimulating ingredient.  There is also some concern as this product contains paraben, which has been known to cause allergic reactions in some women.  If you would like to read more about L-Arginine and paraben, there are more details in the Penthouse Libido Lift Lubricate Review.  Lastly, this product is water based, although there is a small trace amount of Castor oil, it is still condom compatible as it is not a lubricate and will only be used in a small amount on the clitoris.
I also thought that the packaging and bottle were very pretty.  It comes in a small white and pink box and the little bottle itself has pink lettering and a nice frosted glass bottle.  This is something you could leave on your bed side table and people wouldn't look twice at if they didn't know what it was already.  The words "female enhancement gel" are also printed very small so it would not be easy to read without picking it up to look at it closely.  Overall the bottle is very elegant.
Overall, I would recommend this product to anyone that is looking for a stimulating tingling gel to enhance their arousal and pleasure.  This has been one of my favorite products to use and I am a strong supporter of Durex products and condoms.
To save 15% on your order at EdenFanasys, use coupon code
G8W
*This review was not sponsored by any company, it was a product I purchased on my own and choose to give my independent opinion on*