Today I'm going to talk about a product that in and of itself, it's not that special, but it has a neat novelty feature, which is why I wanted.  And that product is the Ophoria Glo Contoured Dildo from Eden Fantasys.
Yes, that says Glo, as in glow in the dark, as in glow sticks.  Am I really going to shove glow sticks in me?  Why yes, yes I am, but only when they are encased in 100% pure Japanese platinum silicone.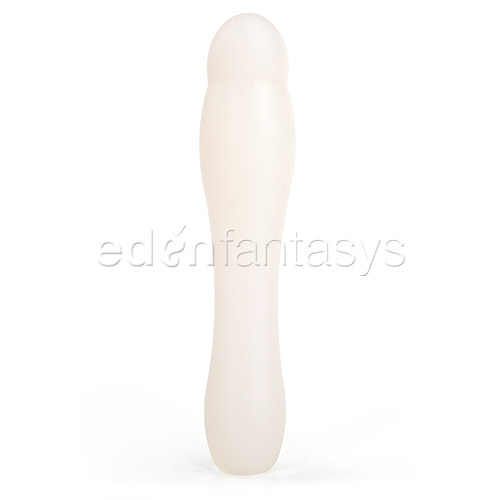 The Run Down:
Manufacturer: Ophoria
Materials: Silicone
Size: 7″ total length, 5 1/2″ insert-able, 1 3/8″ wide
Price: $39.99
Recommended Use: Add a little glow to your play in the dark
Pros: Nice packaging; Made from 100% pure silicone; Glow sticks glow well; Looks pretty cool when it's glowing; Makes a decent light saber
Cons: Slight seam; Could be hard to get replacement glow sticks; Dildo isn't overly impressive by itself
Overall Rating: 4/5
Recommended: Yes
So like usual I'm going to start with the packaging.  I actually really like the packaging.  It's not horribly discreet, as it does show the product with a glow effect on the front, but it's not too phallic looking.  On the front it also states that it's 100% pure silicone, which as you guys know is very body safe and you can sterilize it.  Overall, I think the box is just pretty and a nice display of it.
You can then open the front panel for a 'sneak peak' of the product.  It clasps with a magnet built into the packaging.  Here you can see the actual dildo along with several glow sticks.  Also on the inside cover it has instructions, which are pretty basic.  It also has a warning and says "Do not insert glowing stick directly into any orifice".  By that I would take it to mean to not use the glow sticks themselves as a dildo, which I would recommend against as well.  There's all kinds of chemicals in glow sticks and you don't want those to get inside of you.
The dildo itself is 7 inches long and about 1 1/4 inches wide at the widest portion.  It's called the Contoured because it has a bulbous angled contoured head, to look more like a real cock.  It is solid silicone and is a fairly firm silicone.  It has a little bit of squishy give to it and is slightly flexible, but it's not overly so.  There's also no smell or taste to it, which is to be expected with silicone toys.  I did notice that there is a slight seam, you may be able to tell from the picture but it is very faint.  You can feel it when you run your fingers over it, but it didn't cause any problems for me when inserted.  The one thing I was disappointed with with this toy was the size.  I am not a size queen by any means, but I was expecting a little more girth.  As you can see towards the middle, it narrows quiet a lot to under an inch in diameter.  I would have preferred if it had been one diameter all the way down the toy.
Aside from the shape of the toy, it is a dildo so it's meant for vaginal penetration. The toy has a smooth finish, but like most silicone toys it does have some drag along the skin so you will probably want a little bit of lube. Also, since it is a silicone toy you will want to use a water-based lube with it so you don't ruin your toy.  Since this is silicone it could be used for anal play since it can be sterilized, however, I would not recommend it for anal play as it does not have a flared base on it.  Cleaning is pretty simple, you can wash it with soap and water, bleach it, boil it, put it in your dish washer (though make sure you take the glow stick out first).
The Glo Contoured comes with five glow sticks.  I was hoping these would be standard size, but they are only 5 1/2 inches long, the ones you can buy in the Halloween isle right now are 8 inches.  You may be able to find kid sized glow bracelets that would be small enough to fit, but if not, Ophoria does sell refill glow stick packs.  I found that they glow sticks did glow very well and were very bright.  A trick to keep your glow sticks glowing longer is to pop them in the freezer.  Plus silicone is a great material to chill or warm to try out some temperature play.
So how do you make the damn thing glow already!  As you may have noticed at the end of the dildo, there is a little pink nub.  You can pull out the little end cap to discovery a long cavity inside of the dildo.  As the instructions say you will pick one of the glow sticks, bend it and shake it to activate the chemicals inside, place it in the pink cap as you see below.
Now, take the glow stick and the cap and simply insert it into the cavity of the toy.  The pink cap will pop security into place and ta-dah!  You now have a glowing dildo!  It is not a tight seal, but there is no need for it to be water proof. If the glow stick gets wet it will not explode or fry or anything bad.  If you do get lube or something in the cavity (which you don't need any to insert the glow stick) a good rinse with soap will clean it up.
You didn't think I wouldn't show pictures of what it looks like glowing did you? So since the dildo is a clear white translucent silicone, the glowing from the glow sticks actually shows through extremely well.  The only thing I noticed was where the head is contoured, it didn't glow as well as the rest of the toy.  Here is a picture I took in the pitch blackness under my covers.  It looks like it's glowing red hot doesn't it?
And another of it in my hand (it's upside down).  The glowing is the brightest in the center where there is the lowest diameter, but it does glow very well through the rest of the toy.  I was very impressed with that.
Overall, the Ophoria Glo Contoured Dildo itself as a sex toy is okay.  It's nothing to be overly impressed with.  It's not bad, it just wasn't impressive to me.  It would be great for someone who doesn't want a lot of girth, especially someone new to dildos.  It's also great because it's fairly inexpensive.  As far as the novelty of it glowing, I think it's pretty neat and it looks pretty cool in the dark. It's kind of a silly feature, but it could add a new experience to your playtime, especially with a partner.  I'm thinking playing in complete darkness with only the glow of the dildo to guide your partner to your happy spots.  Oh and in case you don't like this particular shape, there are two others to choose from!

Dildo by Lover's Choice Inc.
Material: Silicone
Safety:
This product was provided free of charge to the reviewer.
To save 15% on your order at Eden Fantasys, use coupon code
G8W
*This review was sponsored by Eden Fantasys, the product was sent to me free of charge to provide my honest opinion with no form of compensation*