You guys probably know I really like Ophoria products so I requested the Ophoria Pleasure No. 6 from Eden Fantasys to review.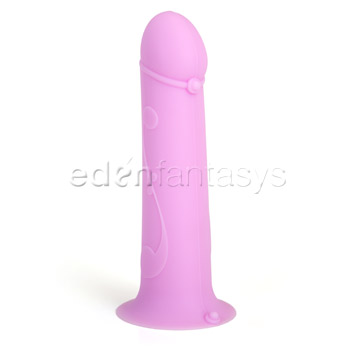 The Run Down:
Toy Type: In-ie
Manufacture: Ophoria
Material: Silicone
Size: 6″ long and 1 1/4″ wide
Price: $44.99
Recommended Use: Enjoy this pretty textured dildo for vaginal or anal penetration.
Pros: Easy to clean; Interesting texturing; Very powerful suction cup; Very pretty;  Good for beginners
Cons: May be too small for some; Has a seam
Overall Rating: 4/5
Recommended: Yes
The packaging for the Pleasure No. 6 is pretty standard Ophoria style packaging. The box has a pretty design over the sides and a display window to show off the product.  I would say the packaging is discreet, as it only says "Dildo" in very small print at the bottom, but I think it's fairly obvious what it is through the window.  The color of the packaging also matches the color of the dildo, so I would guess if you ordered the Melon one, the packing would be that same melon color.
Like the Ophoria Glo Contoured, this is a small non intimating dildo.  It measures only 6 inches long, with most of that being insert-able, and only 1 1/4 inches wide.  It's also made from 100% pure Japanese platinum silicone which means it's very body safe and you can bleach it or boil it to sterilize it.  The package says it's completely flexible and it does have some flex to it, but it is very firm and doesn't have much give when squeezed. This is probably the firmest dildo I have that isn't glass or metal.   Aside from that it is very easy to clean, simply wash it with soap and water or use toy cleaner.  Also, only use a water based lube with the Pleasure No. 6 so it stays around for a long time and store it away from other silicone toys.
The Pleasure No. 6 also has some interesting and pretty detailing on the sides. Each side has a swirl sort of pattern that looks like an F hole on a violin.  It is sort of phallic looking, but more of a girly artistic version of a cock.  The head is oh so slightly larger than the rest of the shaft but it tapers and is rounded to allow for easy insertion.  It also has a ring around the  head with a small bump.  I didn't think I would be able to notice the side detailing but I could actually feel it pretty well, though it doesn't add anything for me really.  The only issue I had with texture is there is a seam that runs along the toy but I didn't notice that it scraped or hurt at all when I inserted it.
The other big feature to this dildo is it does have a flared suction cup base.  The material thins our quite a bit at the cup and I really didn't think it would have all that much suction power to it.  Another dildo I reviewed with a suction cup would barely stick to anything.  However, I was very impressed with the Pleasure No. 6's ability to stick to almost anything.  I think I ended up playing with it more by sticking it to surfaces than actually using it.
That's not to say that it's not a good dildo, but it is rather fun to see what all it will stick to.   And yes that includes body parts.  It stuck decently to my palm, but my favorite place was my forehead. It sticks extremely well to my forehead.  I'm sure it wasn't intended for that, but it is pretty funny and cool.  The base does mean you can use it for anal penetration and you may be able to use it in a harness.  The cup base may not be sturdy enough to hold it in a harness though.
Overall, I am still a big fan of Ophoria toys, though everyone may not enjoy this dildo.  Size queens will find it to be very small.  It is also very firm, so for those that enjoy a softer squishier toy, you will probably not enjoy the Pleasure No. 6.  I do feel that this is a very pretty beginner dildo and I do enjoy mine.  Also, if you don't like the pinky color I have (it's called Mauve) they also have it in a bright orangish color they call Melon.

Dildo by Lover's Choice Inc.
Material: Silicone
Safety:
This product was provided free of charge to the reviewer.
*This review was sponsored by Eden Fantasys, the product was sent to me free of charge to provide my honest opinion with no form of compensation*