Today we're going to have a lesson in toy care!  That way you don't have to learn the hard way like I did.
First I'm going to talk about toy care, particularly in relation to the Mini Vibra Tease.  I was going to review it, but I decided that I didn't get to play with it really to do a proper review.  I had purchased this item based on the recommendation of a friend; he told me that a vibrating butt plug would "turn my pussy into a vibrator" for my partner.  Taking his advice, I got this little baby, since I am not at all experienced with anal toys.  It's a great starter anal toy, it has a flared base and is less than 5″ in total length with about 4″ of insertable length.  At it's widest it measures barely over 1″ and only 1/4″ at the tip making it a good small toy for a beginner.  In addition to the toy itself, it has a opening to insert a bullet, that comes with it.  The bullet was quiet strong, I was impressed and it runs off 3 watch batteries and guess what?  The package comes with 6!  This toy is also made out of TPR which is moderate-high body safe and can be used with silicone or water-based lube.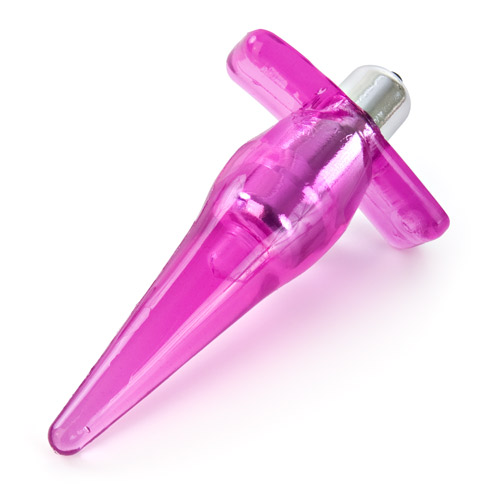 So, I'm sure you're all wondering well what exactly happened.  Well it all comes down to how my toy was stored.  I have several toys and I knew that silicone toys you're not supposed to let touch because they can cause the toys to degrade, but I did not know that other toy materials could have the same problem, so most of my toys I had shoved in a little travel bag and a make up bag.  A month or so after I got this plug, I shoved it on on top of my iVibe Rabbit, a jelly toy, and my Gina's G-Spot Arouser, another TPR toy.  I'm not sure which toy caused the reaction but it caused my new little Vibro Tease to melt, yes melt.  I opened up my toy bag, and pulled out some stuff to find purplish goo all over several of my toys.  In this picture you can see the white along the edge of the toy, that's from the napkin I wrapped it in to prevent it from ruining any more toys.
And here is the side, you can see the deep grooves where it really melted.  As far as the other toys, they weren't damaged at all, just had to clean the goo off and they were perfectly okay.
So that being said, the moral of this lesson is to not let your toys touch.  Materials can react against similar materials and cause your toys to degrade and you don't want that to happen.  Wrap your toys in bits of cloth, old scarves, etc, or find some small bags to stick each toy individually in.  If you're not sure what you can store with your toy, it's probably best to store them separately or check out EdenFantasys's Toy Material Guide.  The material guide will tell you what type of lube you can use with what material as well as hygiene an maintenance.    I plan on trying to find some gift card bags at the Dollar Tree to put my toys in.  If you have any questions about toy materials please contact me and I can try to get you more information.
Next thing you need to do for your toys is clean them.  The material guide can aid you in any specific material, but most materials can be cleaned with mild soap and water or a toy cleaner or wipe.   Silicone toys can be boiled or even put in the dishwasher to be cleaned.  It is very important to clean your toys because bacteria can stick to them and lead to a bad infection, especially if toys are being used for anal and vaginal use, which I do not recommend using a single toy for both.  In addition, some toys are pours and will need to be cleaned throughly before another use.
That's it for today, please remember to take care of your toys and  clean them properly.  As far as the damaged toy I have, well I'm going to be sending it to a toy recycling program and write another blog post on how my experience with that is.